New shoes, new love!
Thursday, May 02, 2013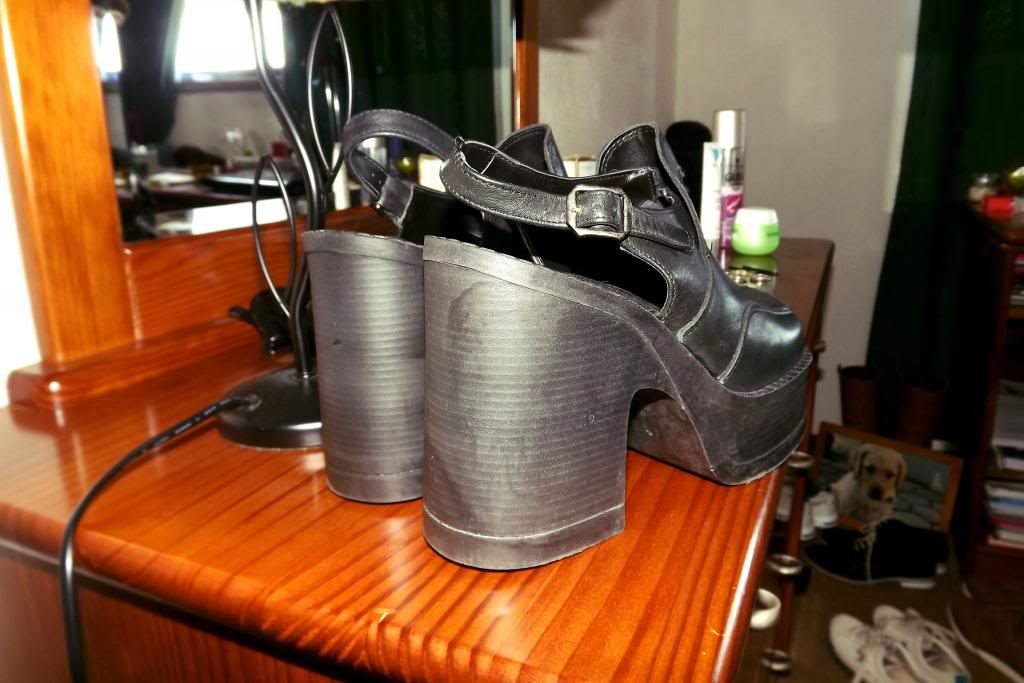 How I missed this! Well, I didn´t write a new publication for a long time! You guys don´t know the madness that was my last month. Among deliver college papers, final exams, I had to fully concentrate in college. You know, right now I'm an intern at a community health center, so I had to work a little more and left me no time to blog (how I regret that). Not that I have plenty of time now, but at least I'll enjoy the weekend to update.
At the weekend I took the opportunity to relax a bit. And there is nothing better to relax than shopping! And just my luck, there was a Flea Market at Porto on Saturday. Of course I couldn´t resist and went there. And truth be told, I was curious to get to know the pieces from an online store called Tricirculo. I had a crush on one of their shoes and I was tempted to buy them, but I never buy shoes without first trying them on. When I finally found the "store" in the confusion of the Flea, the shoes I wanted were already sold out in my size. And it was a good thing, if it didn´t happen I wouldn´t even noticed these gorgeous shoes that I am completely in love! They are the perfect shoes, complete any look that I create and adjust wonderfully to my day. And they are the most comfortable shoes ever made! I am thinking of getting the sandal version!
Que saudades! Bem, já não escrevia uma publicação nova há imenso tempo! Nem sabem a loucura que o meu último mês foi. Entre entregas de trabalhos de faculdade, exames finais, tive mesmo que me concentrar plenamente na faculdade. Sabem, neste momento estou a estagiar num Centro de Saúde, por isso tive que me aplicar mais um pouco, acabando por não me sobrar tempo nenhum para o blogue (com muita pena minha). Não é que eu tenha muito mais tempo agora, mas pelo menos vou aproveitar o fim-de-semana para ir actualizando.
No fim-de-semana passado aproveitei para descontrair um pouco. E não há nada melhor para descontrair que compras! E olhem a minha sorte, havia um Flea Market no Porto no Sábado. Claro está que não resisti e passei por lá. E verdade seja dita, eu tinha curiosidade em conhecer os artigos de uma loja online, a
Tricirculo
. Andava de olho nuns sapatos deles e estava tentada em comprá-los, mas eu nunca compro sapatos sem primeiro experimentar. Quando finalmente encontrei a "loja" no meio da confusão do Flea, os sapatos que eu queria já estavam esgotados no meu tamanho. E ainda bem, senão nem sequer reparava nestes sapatos lindos pelos quais estou completamente apaixonada! São os sapatos perfeitos, completam qualquer look que eu construa e adaptam-se maravilhosamente ao meu dia-a-dia. E não tenho sapatos mais confortáveis que estes! Já ando de olho na versão em sandália.