Go hard or go home
Monday, August 12, 2013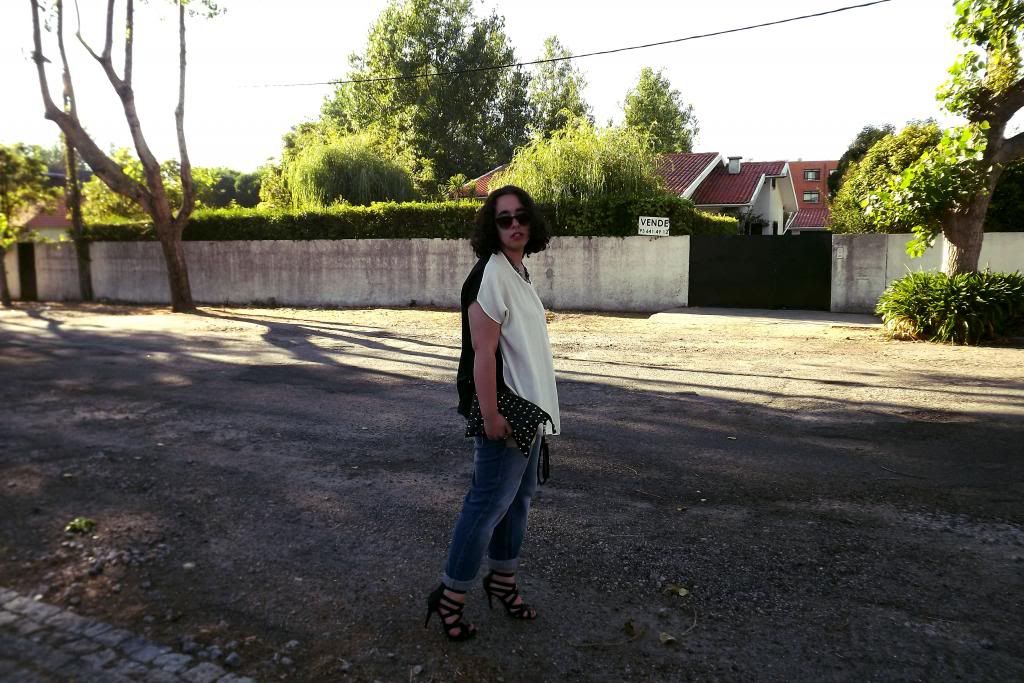 (EN) Monday. Damn Monday. Sleep, the desire to stay in bed, laziness. But today the will of being productive won. I managed to pass from the bed to the couch (yes, laziness won the battle but not the war) and were only 9 in the morning. Don´t mock me, it´s a major breakthrough for me. Solemnly confess that I simply can´t get out of bed in the morning (at holidays of course, at college I have no other choice). And when I finally get out of bed I was in such a bad mood (neither the holy coffee resolved it). And there I spent a morning nested on the sofa fully loaded with sleep. In the other half, my afternoon was quite productive. I worked a bit on the blog, almost finished my book and exercised a little bit. In short, I am worn out!
Play with proportions never had been one of my greatest qualities but came to my mind combine "boyfriend jeans", a baggy shirt with good heels was a great idea. And I only managed to stumble 500 times.
Don´t forget to enter my very first GIVEAWAY here!
(PT) Segunda-feira. Maldita segunda-feira. O sono, a vontade de ficar na cama, a preguiça. Mas hoje a vontade de ser produtiva venceu. Consegui passar da cama para o sofá (sim, a preguiça venceu a batalha, mas não a guerra) e eram só 9 da manhã. Não gozem, é um grande avanço para mim. Confesso solenemente que simplesmente não consigo sair da cama de manhã (em tempo de férias claro, na faculdade não tenho outra opção). E quando finalmente saio da cama fico de mau humor extremo (nem o sagrado café resolveu isso). E lá passei eu uma manhã aninhada no sofá a ressacar o sono. Pelo contrário, a minha tarde foi bastante produtiva. Trabalhei um pouco para o blogue, apanhei sol (já tenho a marca do biquíni!), avancei na minha leitura e fiz exercício físico. Resumindo, estou estafada!
Jogar com as proporções nunca foi uma das minhas maiores qualidades mas pensei que conjugar uns "boyfriend jeans", uma camisa largueirona com uns bons saltos altos era uma óptima ideia. E consegui tropeçar só 500 vezes.
Não se esqueçam de participar no meu primeiro "GIVEAWAY" aqui!
I was wearing:
Top/Clutch/Necklace: Lefties
Jeans: Pull&Bear
Shoes: Proof
Rings: Bershka
Sunglasses: H&M
Love, Inês