Let´s talk about...
Thursday, August 29, 2013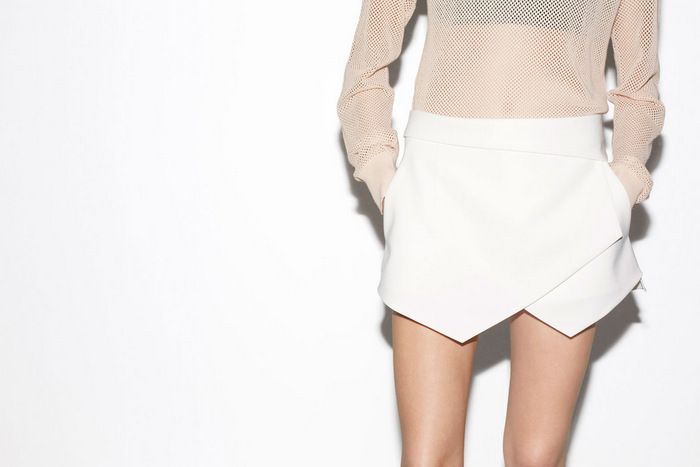 Skorts. Is it skirt or shorts? Simple answer: both. So we have the best of both worlds (cliché alert).
I confess that when Zara made them available for sale, specifically in white, I went crazy. I had never seen anything so functional, clean and organic in my life. I immediately thought: they have to be mine! I ran like crazy to find them. I looked at many
Zara
stores and most times without success. When I finally put my hands on the desired white skort I brought it with me without hesitation. I already had in my possession that object of desire.
Shortly after my purchase, I began to notice that more and more bloggers had the so famous skort. Curse of mine to dislike being like others. I used it once and it was for going to the beach. I made the choice to not even show it on the blog. It was something so banal to the point of having lost all my interest in the piece in question. Now I have it in my closet, unused.
Well, I just hope that this trend does not remain in the autumn. Skorts + Tights is not a pretty sight (maybe I am wrong).
Tell me: even being a piece used by (almost) all bloggers you continue to love and use the Skort?
Skorts. Será saia ou calção? Resposta simples: é os dois. Assim temos o melhor dos dois mundos (alerta cliché).
Confesso que quando a Zara os disponibilizou para venda, mais especificamente em branco, fiquei tolinha. Nunca tinha visto nada tão funcional, polido e orgânico na minha vida. Pensei logo: têm de ser meus! Corri que nem uma louca para os encontrar. Procurei em muitas lojas Zara e a maior parte das vezes sem sucesso. Quando finalmente consegui colocar as mãos no tão desejado skort branco trouxe-o comigo sem hesitar. Já tinha em minha posse aquele objecto de desejo.
Pouco tempo depois da minha compra, comecei a reparar que mais e mais bloggers tinham o tão famoso skort. Maldição minha de detestar ser como os outros. Usei-o uma vez e foi para ir para a praia. Fiz a opção de nem sequer o mostrar no blogue. Era agora algo tão banal ao ponto de ter perdido todo o interesse na peça em questão. Agora tenho-o arrumado no armário, inutilizado.
Só espero bem que esta tendência não permaneça no Outono. Skorts + Collants não é uma visão muito agradável (até posso estar enganada).
Digam-me lá: mesmo sendo uma peça usada por (quase) todas as bloggers continuam a adorar e usar o Skort?