Not Marant.
Friday, January 31, 2014
Sales. Who doesn´t like sales? Besides, who doesn´t like to indulge yourself at this time of the year? I love to pamper myself. And nothing gives me more pleasure than owning a piece that I already laid an eye for a long time, but the price was unappealing. The very best: find a pair of completely inspired Isabel Marant boots (which I also have a major crush), which had gone from the stores and had their glorious return and for less than 15 Euros. I tell you, our reunion was a tremendously emotional moment. And when paying, my bank account thanked me with applause and standing ovations.
Now you ask me, but wouldn´t you rather have in your possession a true Isabel Marant boots? I think my answer is pretty obvious with the shoe obsession that I have. Of course I would love to have the-most-perfect-boots-on-earth but we must be realistic and I feel that I will touch the wound and hopefully not hurt sensibilities: why spend an exorbitant amount of money when I have almost the same model or a quite similar one to the original at a fraction of the price? You know, my style changes with my mood and so the odds that I will use whatever it is for more than one season is practically null so I prefer to find items worthy of great designers but at a more friendly price. I know, I know, the quality isn´t the same but I am here to speak only of the aesthetics of the thing. Sure there are timeless pieces in which we have to invest good money but everything more superfluous you can bet on cheaper brands! You will see that your wallet will thank you.
Saldos. Quem é que não gosta de saldos? Aliás, quem é que não gosta de se mimar nesta época do ano? Eu adoro mimar-me. E nada me dá mais prazer do que possuir aquela peça que já andava debaixo de olho há algum tempo, mas cujo preço era pouco apelativo. Cereja no topo do bolo: encontrar um par de botas completamente inspiradas na Isabel Marant (que eu também já andava a namorar), que do nada tinham desaparecido das lojas mas que tiveram a sua gloriosa volta e por menos de 15 euros. Digo-vos, o nosso reencontro foi um momento tremendamente emotivo. E na hora de pagar, a minha conta bancária agradeceu com aplausos e ovações.
Agora vocês perguntam-me: mas não preferias ter em tua posse umas verdadeiras Isabel Marant? Acho que a minha resposta é óbvia tendo a obsessão por sapatos que tenho. É claro que eu queria ter as botas mais-perfeitas-à-face-da-terra mas sejamos realistas e sinto que vou tocar na ferida e espero não ferir susceptibilidades: porquê gastar um valor exorbitante quando tenho quase o mesmo modelo ou um modelo em muito idêntico ao original por uma fracção do preço? Sabem, o meu estilo muda consoante o meu humor e por isso a probabilidade de eu usar o que quer que seja por mais que uma temporada é praticamente nula, daí a minha opção bem fincada de encontrar artigos dignos de grandes designers mas a um preço bem mais amigável. Eu sei, eu sei, a qualidade não se compara mas eu estou aqui a falar somente da estética da coisa. Claro que há peças intemporais nas quais devemos investir um bom dinheiro mas tudo o que for mais supérfluo apostem em marcas mais baratas! Vão ver que a vossa carteira vai agradecer.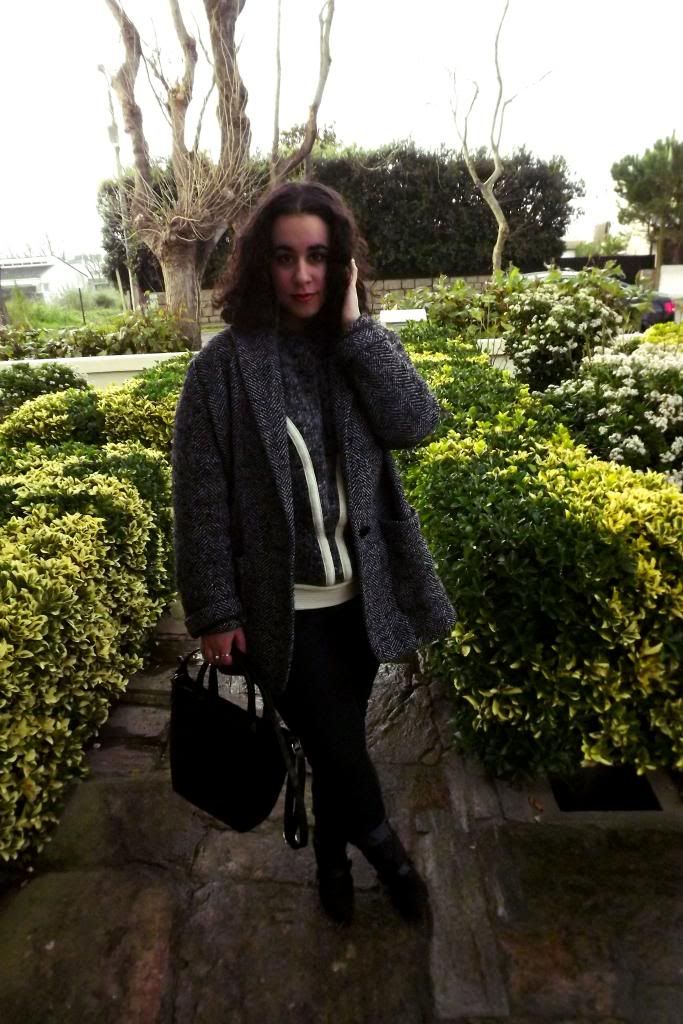 I was wearing:
Sweater: Zara
Trousers/Purse: Primark
Coat: Mango
Shoes: Lefties
Love, Inês