Summer skin care.
Wednesday, July 30, 2014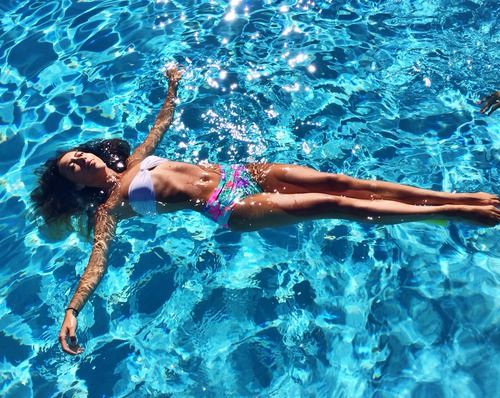 Skin. First of all, today is the day for a new label on the blog. That's right, I'll start posting about beauty, specifically my beauty routines, my favorite products, new products that promise wonders, some review's if you want, but mostly some tricks and skin care that I acquired over time with different experiences. I warn you that everything I´ll talk here works with my skin but it may not work so well with yours. So try different products until you find the perfect balance for your skin!
So with that said, I find appropriate for summer and for my very first beauty post, a little talk about my skin care routine for a day on the beach. Starting with my skin type: besides having the misfortune to have an extremely dry skin, I also have a sensitive one (genetics, thank you). So the ideal for me is to moisturize and protect the most. So, what I do before leaving the house to go to the beach is first applying a moisturizer all over my body. I'm currently using (and abusing) the
"Purely Pampering" with coconut milk and jasmine petals for dry skin from Dove
. I bought this product on sale at a drugstore and since then I haven´t used anything else, besides moisturize my skin quite well, also leaves a pleasant scent. Makes you want to lick all your skin (ok, joking!). After leaving it dry (and act), the essential step: sunscreen. After several failed attempts, I finally found one suitable for my skin (Yei me!), the
"Sun Protection SPF 50+" for sensitive skin from Farline
. Since I started using this sunscreen I never suffered from sunburns anymore (I also have a very light skin) and also helped with moisturizing my skin. Two words to describe it: LOVE IT! To replace my usual facial cream (which I'll talk on another post) I use
"Hydrance Optimale Light Protective Hydrating Cream SPF 20" for sensitive skin from Avène
. Of course that is not enough so I apply a light layer of my Farline sunscreen too. And I'm ready for a day on the sun with my protected skin! The best advices I can give you are finding out your skin type and suit the different products. Don´t purchase those that claim to be right for all skin types. Your skin is unique and deserve good care, never forget that.
Pele. Antes de mais, hoje é dia de uma nova rubrica no blogue. É isso mesmo, vou começar a publicar sobre beleza, mais especificamente as minhas rotinas, os meus produtos favoritos, novos produtos que prometem maravilhas, algumas review´s, se quiseres, mas principalmente alguns truques e cuidados que fui adquirindo ao longo do tempo e principalmente com diversas experiências. Desde já aviso que tudo o que vou falar aqui resulta com a minha pele mas pode muito bem não resultar com a vossa. Por isso, experimentem vários produtos até encontrarem o perfeito equilíbrio para a vossa pele!
Dito isto e por achar apropriado para esta época e para primeiro post de beleza, vou falar-vos sobre os meus cuidados de pele para uma ida à praia. Começando com o meu tipo de pele: além de ter o infortúnio de possuir uma pele extremamente seca, tenho igualmente pele sensível, ou seja, qualquer coisa irrita a minha pele (obrigada genética!). Por isso o ideal para mim é hidratar e proteger ao máximo. Posto isto, a o que eu faço antes de sair de casa para ir para a praia/piscina é primeiramente aplicar um creme hidratante em todo o meu corpo. Estou neste momento a usar (e abusar) o
"Purely Pampering" com leite de coco e pétalas de jasmim para pele seca da Dove
. Comprei este produto numa promoção numa drogaria e desde então não tenho querido outra coisa, para além de hidratar muitíssimo bem a minha pele, deixa também um cheirinho agradável. Dá vontade de lamber a pele (ok, estou a brincar!). Depois de deixar secar (e atuar) o creme passo então o imprescindível protetor solar. Após diversas tentativas falhadas, finalmente encontrei o indicado para a minha pele, o
"Sun Protection SPF 50+" para peles sensíveis da Farline
. Desde que comecei a usar este protetor nunca mais tenho sofrido com queimaduras solares (também tenho uma pele bastante branca) e tem igualmente ajudado na hidratação da minha pele. Uma palavra para descrever: ADORO! Para a cara substituo o meu habitual creme (que irei falar noutra publicação) para o
"Hydrance Optimale Light Protective Hydrating Cream SPF 20" para peles sensíveis da Avène
. E claro está que não chega a aplicação única deste creme, aplico de seguida uma leve camada do meu Farline também. E pronto, estou pronta para um dia ao sol com a minha pele cuidada e protegida! O melhor conselho que vos posso dar é descubram o vosso tipo de pele e adequem os diferentes produtos. Não comprem aqueles produtos que se proclamam para todos os tipos de pele. A vossa pele é única e merecedora de cuidados, nunca se esqueçam disso.
Love, Inês