July stars.
Saturday, August 01, 2015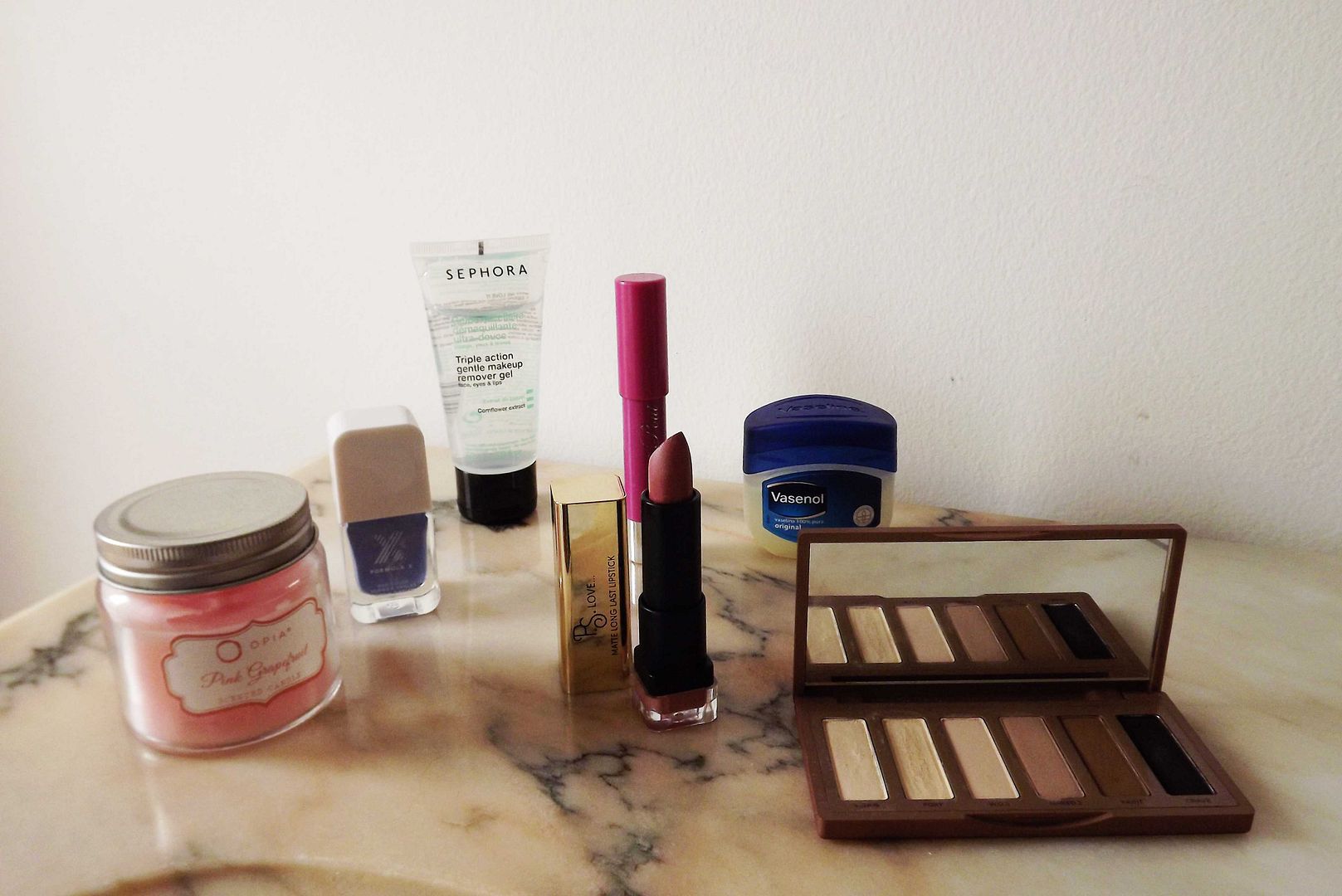 July. Another month ended so it´s time to show you what I´ve been loving.
1. It has been an inseparable partner for my relaxing/pamper nights. It has a pleasant scent for summer, nothing too strong just how I like it.
2. I have shown you this nail polish on the last post and it definitely won a place in my heart. The color is incredible, perfect for hot summer days.
3. At this point all I want for daily basis is a natural and quick makeup. So I´ve been loving this lip product that besides being moisturizing has a beautiful wash of color.
4. Oddly, my lips get even drier during summer and I have to reach more frequently for moisturizing and exfoliating products. What I do to have both in one single product is adding in a small bowl a bit of pure petroleum jelly and sugar. And that´s it, moisturized and exfoliated lips in one step.
5. This lipstick is already a favorite of mine for some time. A dark nude, long lasting and comfortable on the lips. And for just 2 euros. Need I say more?
6. As you know, since a few months ago my skin got extremely dry and sensitive and so I have to be extra careful. I used to take of my makeup with micellar water and then with a cleansing milk from Sephora and it worked well. But as I empted my cleanser I decided to try something new, so I bought this gel. It is suitable for sensitive skin and the best of it isn´t drying for my skin! I just have to say it was a right choice.
7. This eye pallet has already made an appearance here and continues to be one of the best I own. Versatile colors, ideal for simple makeup that lately I´ve been loving (#lazygirl). Despite being expensive, the quality is unbelievable. I highly
recommend
it!
Now tell me, what are your favorites beauty products?
Julho. Mais um mês que chegou ao fim e por isso chegou a altura de vos mostrar o que tenho usado e abusado.
1. Tem sido um parceiro inseparável principalmente para noites relaxantes. Tem um cheiro agradável para o Verão, nada forte.
2. Já vos falei sobre este verniz na última publicação e de facto ganhou um espaço no meu coração. A cor é fantástica, perfeita para os dias quentes de Verão.
3. Nesta altura tudo o que quero durante o dia é uma maquilhagem natural e rápida. Para esse efeito no último mês tenho recorrido imenso a este produto que para além de ser hidratante para os lábios tem uma cor linda.
4. Por incrível que pareça, os meus lábios ficam ainda mais secos durante o Verão e tenho de recorrer com regularidade a produtos hidratantes e esfoliantes. O que eu faço para obter ambos num só produto é juntar num pequeno recipiente um pouco de vaselina pura e açúcar. E pronto, lábios esfoliados e hidratados num só passo.
5. Este batom já é um favorito há algum tempo. Um nude escuro, com alto durabilidade e confortável nos lábios. E por apenas 2 euros. É preciso dizer mais alguma coisa?
6. Como sabem, desde há uns meses para cá que a minha pele anda extremamente seca e sensível e por isso tenho de ter um cuidado extra. Costumava limpar a maquilhagem com água micelar e depois com um leite de limpeza da Sephora e resultava muito bem. Mas como o meu leite de limpeza chegou ao fim resolvi experimentar algo novo e então comprei este gel. É indicado para pele sensível e o melhor é que não me desidrata a pele! Só tenho a dizer que foi uma escolha acertada.
7. Esta palete já fez uma aparição por aqui e continua a ser uma das melhores paletes que possuo. Cores versáteis, ideais para a maquilhagem minimalista que eu tanto gosto. Apesar de ser cara, a qualidade compensa. Recomendo!
Agora digam-me, quais são os vossos produtos de beleza preferidos?
Love, Inês