August stars.
Wednesday, September 02, 2015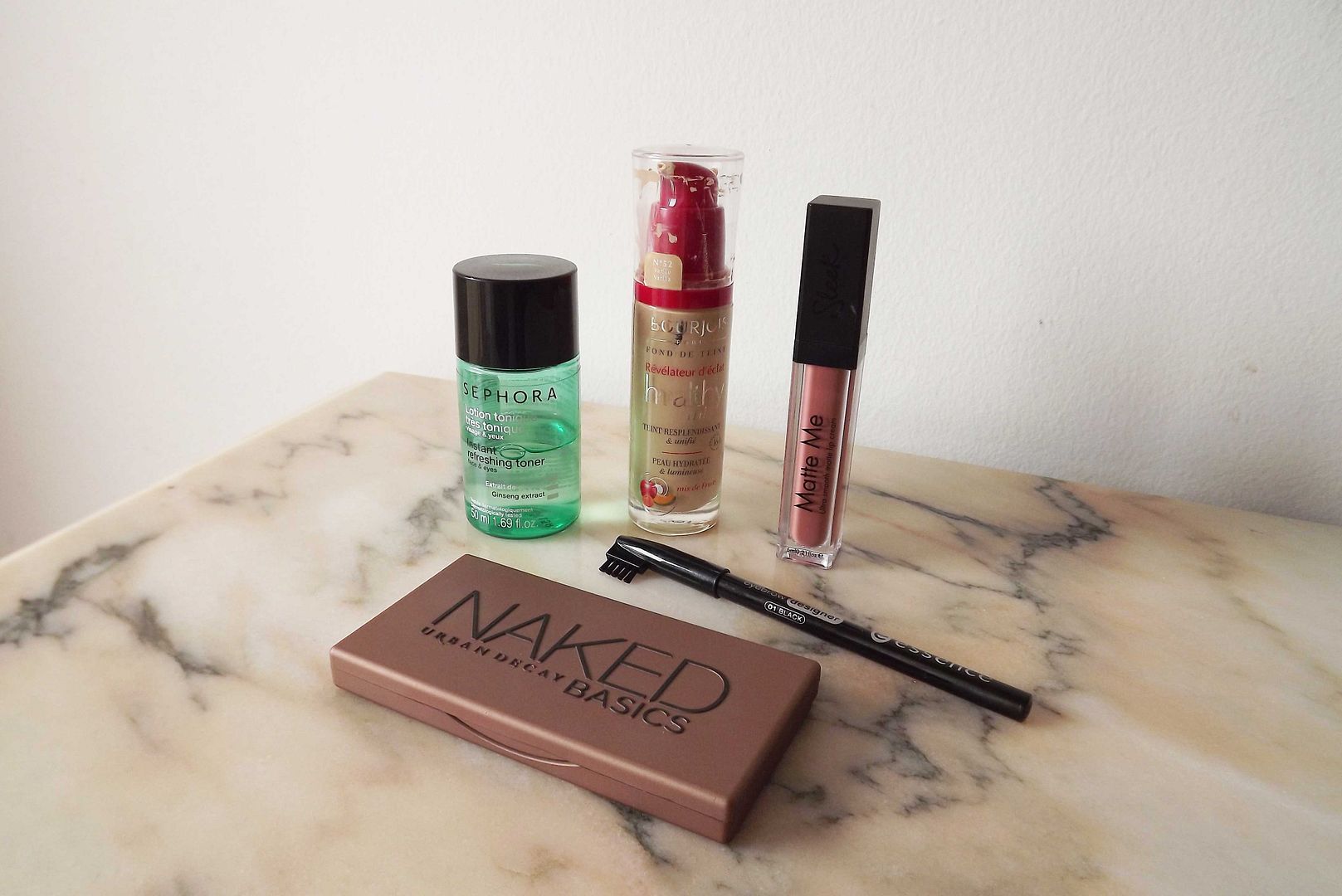 1-
Sephora Instant Refreshing Toner
// 2-
Bourjois Healthy Mix Foundation
// 3-
Sleek Matte Me in "Birthday Suit"
// 4-
Essence Eyebrow designer in "01- Black"
// 5-
Urban Decay "Naked Basics"
August. Where did August go? It seems like yesterday that I sat down at my computer to write about my July favorite beauty products. But here I am writing about my August favorites. It wasn´t a month filled with a lot of new products for me as my makeup remained fresh and simple, which is reflected in my favorites.
1. I discovered this Sephora toner in one of my trips to Lisbon and from there we are inseparable. It leaves my skin with a lovely scent (it smells like tea!) and freshness that reminds me of summer days. And the best: my sensitive skins likes it.
2. This foundation is an old love of mine. I bought it earlier this year but with the the discovery of new products I forgot about it (silly me). But this month it returned to receive the love deserved. My skin is grateful for the hydration factor that this foundation provides as well the luminosity that I love so much. And it smells like fruit! A secret to my gorgeous readers, if you have oily skin, avoid it.
3. I think this product is no surprise to appear in this post. You must be bored of reading about it as I already gave my opinion of him in this post. But the fact is that is the lipstick I choose for any look and it never disappoints me.
4. I never needed to fill in my eyebrows in my life. Since the day a dear beautician has caused a spare spot in my right eyebrow, I had to reach for an eyebrow pencil. It is a small flaw so I didn´t want to spend a huge amount of money on a single product, so this Essence one meets the requirements well, cheap and does the job.
5. As I mentioned, my makeup, this month, was always something simple and quick. And I found myself reaching more than usual for this Urban Decay palette mainly the shade "Naked 2". All I do is dusting the shadow in my crease, put some mascara and I am good to go.
Tell me, is any product out there that I should try in September? I want to know your recommendations.
Agosto. Este mês passou a voar. Parece que foi ontem quando me sentei à frente do meu computador para escrever sobre os meus queridos produtos de Julho. Mas aqui estou eu, a escrever sobre os produtos que desfilaram na minha vida em Agosto. Este mês não foi um mês recheado de novos produtos até porque a minha maquilhagem manteve-se simples e fresca e a minha rotina de beleza é quase sempre a mesma, o que se refletiu nestes favoritos.
1. Descobri este tónico da Sephora numa das viagens que fiz a Lisboa e desde então que somos inseparáveis. Deixa a minha pele com um cheirinho bastante agradável e uma frescura que me faz lembrar os dias de Verão. E o melhor: não irrita a minha pele sensível.
2. Esta base é um antigo amor meu. Comprei-a no início deste ano a adorava-a, mas com a descoberta de novos produtos, caiu no esquecimento. Mas este mês voltei a dar-lhe o amor que bem merece. A minha pele agradece o fator de hidratação que esta base fornece assim como a luminosidade que eu tanto gosto. E cheira a fruta! Mas um pequeno segredo para os meus leitores: se têm pele oleosa, fujam desta base.
3.
Não é surpresa nenhuma que este produto seja um dos meus favoritos. Eu bem sei que não tenho parado de falar nele, mas não fazia sentido não o incluir na publicação de hoje. Se quiserem ler a minha opinião sobre ele, cliquem
aqui
. É de facto, a minha escolha para qualquer look e nunca me desilude.
4. Nunca precisei de preencher as minhas sobrancelhas. Até ao dia em que uma querida esteticista fez uma falha na minha sobrancelha direita. A partir daí preciso de usar algo para preencher aquela falha. Eu não queria gastar um valor exorbitante num produto para as sobrancelhas porque sinceramente não se justifica dado o uso que lhe dou. Por isso, este lápis da Essence preenche os requisitos, é barato e faz o trabalho.
5. Como já mencionei, a minha maquilhagem durante este mês foi bastante simples e rápida. Então dei por mim a usar esta paleta com mais regularidade, principalmente o tom "Naked 2". Um pouco deste tom no côncavo dos olhos e máscara e estou pronta para sair de casa (quase).
Agora digam-me, que produtos devo experimentar em Setembro? Quero saber as vossas recomendações.
Love, Inês